Services
At Audiologists Northwest, we take pride in the range of hearing care services we provide our patients. We understand how important hearing is to your everyday life, which is why we have the following line-up of services to address your hearing care needs.
Hearing Tests
Hearing Testing and Evaluations
Choosing the right hearing aid starts with a clear understanding of your unique hearing loss needs. Our advanced testing procedures accurately identify whether or not you have hearing loss and measure the type and severity.
The first step toward better hearing is the hearing test. This simple, but detailed, initial test gives audiologists the information needed to recommend a solution for hearing problems. Since there are many causes and degrees of hearing loss, further evaluation is often recommended.
More on Diagnostic Audiologic Evaluation
Every industrial employer is required to help protect the hearing of employees. They must dispense or have available hearing protection products. Part of this protection is periodic hearing testing, known as industrial hearing screening. The purpose is to detect hearing loss in individuals and to find areas in the facility where noise could be reduced.
More on Industrial Hearing Screening
Audiologists Northwest now offers full audiology services direct to you at your place of residence. Our premium in-home delivery service includes a full array of diagnostic and hearing loss treatment services.
More on Mobile In-home Audiology Services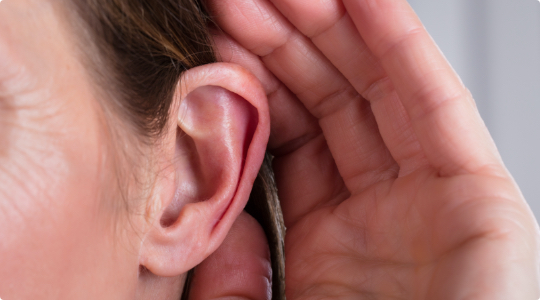 Online Hearing Test
Think You Might Have Hearing Loss?
Take our free, 5-minute online test to get a better understanding of your hearing health. It can determine if a professional screening is right for you.
Our Process
Finding the Perfect Match.
Hearing loss looks different for everyone, and as a result, there are a number of hearing aid varieties on the market. Through careful evaluations and custom fittings, we'll help you find the best device for your hearing loss needs.
Hearing Aid Services
We Service Your Devices
From hearing aid screening, selection and fittings, to ongoing maintenance and repairs – we offer a wide range of services to keep your hearing aids performing their best.
Hearing loss is a major medical problem throughout the country. Most hearing loss occurs over time, and, at some point, people realize it is affecting their lives adversely. The evaluation process for hearing aids involves more than tests. Which devices are right for you? Can you use the smallest products? What are the choices? All these are answered in the evaluation, which includes details of your hearing environment and special circumstances of your abilities.
More on Evaluation for Hearing Aids
Like an evaluation for hearing devices, the fitting process involves a lot more than putting a hearing aid into your ear for the first time. Audiologists Northwest personnel offer a complete service of fitting your hearing aid but also testing it. Fitting is not a one-time visit but a series of tests and adjustments to make sure the device is working optimally.
More on Hearing Aid Dispensing and Fitting
Every electronic device is subject to wear and tear. Small wires, plastic parts and screws can become loosened in use. We can repair hearing aids of all styles here at the office or send them to authorized repair centers.
More on Hearing Aid Repair and Maintenance
When people start to experience hearing loss, they often have difficulty understanding normal speech. Audiologists are specially trained to conduct speech mapping. The process involves computer tracking of speech sounds you can and cannot hear in various environments. For the test, bring a friend or relative whose voice is well known to you.
More on Live Speech Mapping